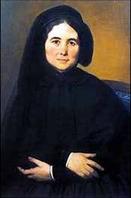 MOTHER ST. JEAN PELISSIER

CURE
General Superior 1849-1869 "How happy I am that the God of mercy put in my soul the vocation I have undertaken with so much courage: to be associated with such a holy priest who lives and breathes only for his children. I will work with all my strength and will support you (Father Gailhac) to the best of my ability in this beautiful work." (Mother St. Jean, 1849)
Born February 2, 1809 into a well-established family of Murviel-les-Béziers in the south of France, Appollonie Pelissier grew up in a deeply Christian home.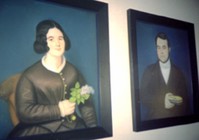 At twenty, she married Eugene Cure.
Together they generously supported the many works of charity initiated by Eugene's lifelong friend, Jean Gailhac. Eugene Cure died suddenly in November 1848.
Soon after, Appollonie offered herself and her considerable wealth towards the founding of the religious community already envisioned by Father Gailhac for the direction and service of the women's shelter and orphanage of the Good Shepherd which he had begun.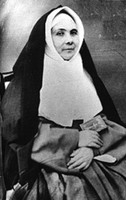 On February 24, 1849, Appollonie moved to the Good Shepherd where she and five companions became the first members of the Religious of the Sacred Heart of Mary. As co-foundress and first superior, Appollonie, now known as Mother St. Jean, worked closely with Father Gailhac and governed the Institute until her death. During her time as superior the shelter for women was transformed into a preservation for young girls at risk, and a boarding school for girls was begun. As the young Institute took on a variety of works Mother St. Jean emphasized the need to strengthen unity in the midst of this diversity. During her lifetime the Institute grew to seventy two religious–sixty French and twelve Irish. An important moment for the new Institute was the granting of legal status in 1856 by decree of the Emperor Napoleon.
Mother St. Jean Pelissier Cure died on March 4, 1869.