Noddfa's celebration of 70 years of RSHM
in Tan-Y-Foel, Penmaenmawr.
We thought it would
be good to celebrate
our 70 years in
Tan y Foel/Noddfa,
to thank God for all
that has happened
here and to pray for
all who come here.
Cheers to 70 years
of service in Noddfa
We decided to celebrate this anniversary at our usual parish Mass on a Thursday, when many of those who support us in our work are present. The actual anniversary was on the 8th December in 1937, when Sisters Rosalie, Hilary, Camillus, Marcella and Rose came to stay for a short time. We were a bit late, having our celebration on 20th December.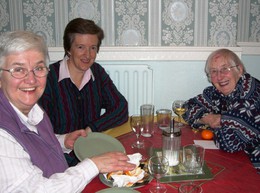 SHM sisters and friends of Noddfa
We were delighted to welcome
six sisters from our Liverpool and
Preston communities, as well as
our friends from Pen and around,
some of whom remembered the
sisters who were here about 60
years ago.
After the Gospel, Pauline gave a short history of the house, which is below in an abbreviated form. We enjoyed our party afterwards and it was good that the RSHM who came were able to stay the night and so prolong the festive mood till the next day.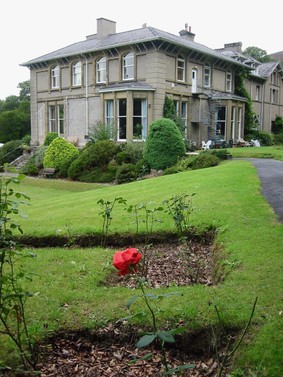 Tan-Y-Foel was built in 1861 by the Gladstone family and the RSHM bought it in 1937. On the 8th December 1937 Sisters Rosalie Mulrennan, Hilary O'Leary, Camillus Mulcahy, Marcella McGrath and Rose Coogan walked the short distance from Fernbrook Road where they stayed for holidays, to Tan-Y-Foel and settled in without any formal celebration. This group of sisters stayed until shortly before Christmas and then returned to Seafield. Mr and Mrs Wilson and their daughter Joyce who lived in the coach house looked after the house as if it was their own. The retired sisters from Seafield used to go down in April were joined by the younger ones during the summer months.
In 1939 with the advent of war the elderly sisters from Seafield moved permanently to North Wales. Now with a settled community and despite their age the sisters began the work of Catechesis and visiting in the local community.
The children came to the convent for their instruction and are remembered today by a couple of the parishioners in Penmaenmawr. Sr Providence O'Donovan is a name that springs to mind, who although very deaf, continued to pass on the word of God. Sr Sebastian O'Gorman, who arrived from Ireland as a comparatively young sister, played the organ in church.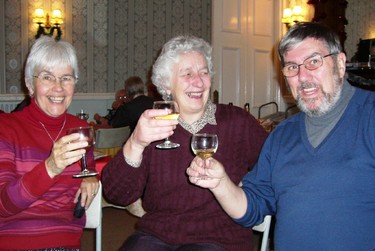 If anyone wants to add to this history, please get in touch with Noddfa. (Jan 2008)