Present:

Catherine Dunne (Co-ordinator)

Patsy Butler

Brigitte Dalton.

Patrice Power (Liaison Person with Provincial Council)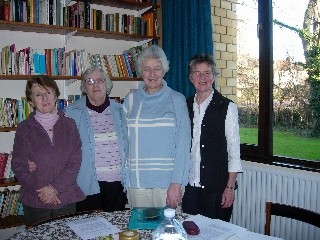 Since this was the first meeting of the group, sharing of information and contacts from personal research in each of our areas was our initial step. We also tried to appreciate the enormity of the business of Human Trafficking, the second biggest business in the world and to clarify our role.
The sharing of information showed that tremendous work is being done to combat this human trafficking. Legislation is a priority and progress is being made. Our main focus will be awareness-raising.
The plan of the team for '08 will be,
Network with Sisters in the Province who may be able to contribute stories, information or resources.
Communicate also with groups/individuals who are involved in the work of combating human trafficking.
Circulate what would help to deepen awareness of this issue. Patsy has some resources

to help, short film, documentaries.
Suggest practical ways, when appropriate, in which Sisters could support events planned to combat human trafficking.
Plan to have a day of Prayer when all of us can express united support for our "corporate stance against human trafficking". (Gen. Chap. '07.)
Next Meeting: March 28th in Neuilly.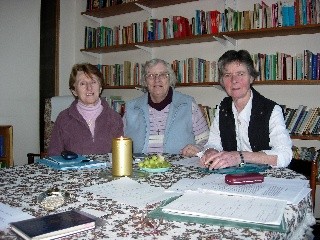 The JPIC Team - Brigitte, Patsy and Catherine