OPENING OF INTERNATIONAL NOVITIATE - 24 FEBRUARY 2008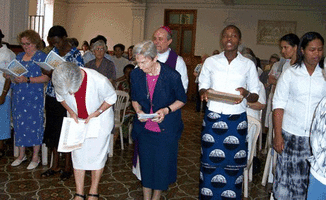 What a great celebration we had on 24 February in the new novitiate in Belo Horizonte! The joy of those attending the opening Mass in the morning was obvious, in spite of the torrential rain which was a backdrop to the whole celebration. There was beautiful singing and dancing, and weaving as a symbol of the involvement and diversity of so many in bringing the vision of the novitiate to reality.
The Bishop, Don Aloisio, reminded all of us and particularly the pre-novices that formation is a constant process in our lives, a slow one in which God walks with us at all times. After Mass everyone was invited to a wonderful feastday dinner during which we were able to meet some of the friends and colleagues of the RSHM.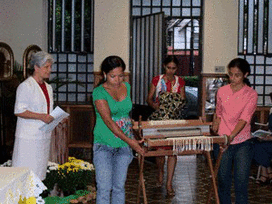 In the evening, the pre-novices were received into the novitiate by Sr. Terezinha. Each expressed through a symbol and a biblical passage her desire to become a novice and to follow Jesus Christ in the Institute of the Sacred Heart of Mary. Then each novice in turn received the Constitutions and a wooden cross symbolizing the journey they were making to follow Jesus more closely and more faithfully.
At both the Mass and the Reception ceremony, there were many sisters present, from almost all the communities in the Brazilian Province, as well as Terezinha from Rome, Sr. Olga Georgina who had followed the process of preparation step by step and had done so much of the practical work involved, and Sr. Loretta Ruvo, a member of the formation community who had until then been absent from the novitiate because of illness and had come especially for the opening and to be with her community for a couple of weeks. I felt privileged to be there also and to have a sense of "mission accomplished", though the real work of the novitiate is just beginning.
Catherine Gough, expressed with great enthusiasm her appreciation of all the cards and messages of congratulation received from the NEP, making the province truly present at this significant Institute event.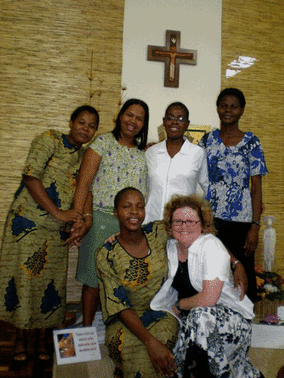 Catherine
Dolan