TEREZINHA : FIVE STAR STUDENT Barbara
Terezinha spent just six weeks during March and April improving her English (she was already quite fluent). She attended a language course in South Kensington and her daily journey on "my Piccadilly Line" to "my school" also gave her memorable phrases such as "Mind the Gap". We explained that this will probably be useful later on during congregational planning as she tries to match our aspirations with our resources!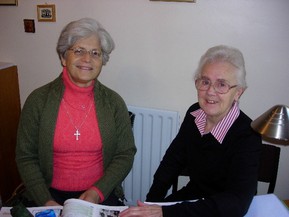 Celine
and
Andre
provide extra tuition!
She also had extra tuition from the Ealing and Grange Road Communities, in particular from Céline and André. Over the weeks Terezinha met several sisters visiting the Provincial House, unfortunately her school and Generalate homework meant that her visits to other communities in the Province were limited.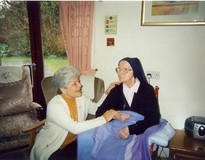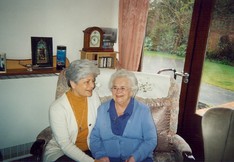 Terezinha with Brendan and Marie Pierre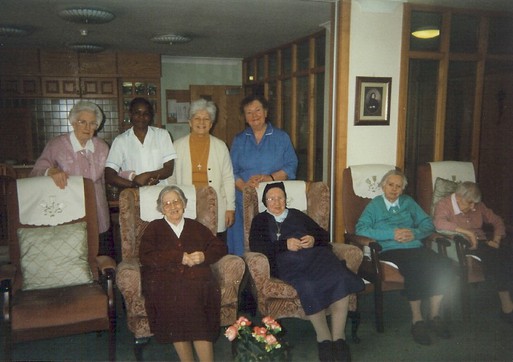 Terezinha with the Arrowsmith community
A long weekend at the end of her course meant that she was able to visit Liverpool and Penmaenmawr. This was an opportunity for her to meet Sisters in the area and Pierre, with whom she had been in community in the Mother House, and Mary Jo and Patrice who knew her well from Brazil. We shall miss her warm, friendly presence and spirit of earnest enquiry that made her a five star student!
Margaret, Terezinha and De Lourdes Patsy, Terezinha and Eleanor
Agnes, Catherine, Terezinha and Patsy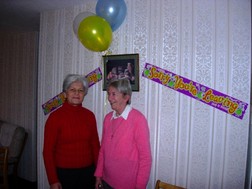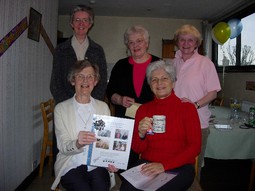 Goodbye and Congratulations! You have passed with flying colours!
VISIT TO MONIQUE: Arthez d'Asson Barbara
Just a ½ hour by car from Lourdes in the Pyrenees this must surely be the corner of the Province with the most magnificent scenery.
The view from her front door encompasses snowcapped mountains, mountain streams, meadows brilliant with spring flowers and scattered homesteads. It is quite breathtaking when the sun is shining and tantalizing when shrouded in grey mist, which I also experienced.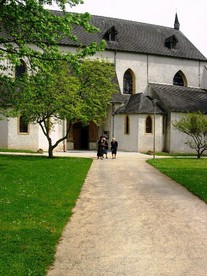 Monique has served in the Parish of Notre Dame de Piémont for over thirty years. The parish is widespread, encompassing ten villages and it can take an hour to reach the furthest point in the parish from where she lives. These days there is just one parish priest. The population in general has increased but the numbers in the Christian Community are diminishing. Even so, Monique's ministry of walking with these people over the years, ministering to their pastoral and catechetical needs is still full time and very much appreciated. It was good to receive a warm welcome from Monique, Abbé Joseph and some parishioners and to see her still with the vigour and enthusiasm to continue.