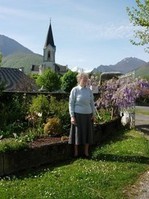 The view from her front door encompasses snowcapped mountains, mountain streams, meadows brilliant with spring flowers and scattered homesteads. It is quite breathtaking when the sun is shining and tantalizing when shrouded in grey mist, which I also experienced.
Monique has served in the Parish of Notre Dame de Piémont for over thirty years.

The parish is widespread, encompassing ten villages and it can take an hour to reach the furthest point in the parish from where she lives.

These days there is just one parish priest.

The population in general has increased but the numbers in the Christian Community are diminishing.

Even so, Monique's ministry of walking with these people over the years, ministering to their pastoral and catechetical needs is still full time and very much appreciated.

It was good to receive a warm welcome from Monique, Abbé Joseph and some parishioners and to see her still with the vigour and enthusiasm to continue.
Barbara